Radon Testing & Requirements in Florida
Radon is a colorless, odorless gas that emanates from the ground. Elevated levels of radon gas are known to be harmful and is a leading cause of lung cancer in the USA.
Many people who are relocating to Florida are concerned about radon in the home they are purchasing. Homebuyers in most areas of Florida can rest easy when it comes to radon gas. Florida is not a high radon state; we simply do not have the geologic rock formations associated with radium decay from bedrock/granite. Further, radon gas does not readily pass through water such as our aquifers. Radon gas only moves about 1-2 meters from its source and for most of Florida, our bedrock is much deeper than that.
Elevated Levels of Radon Gas Throughout Florida
Homebuyers from northern states who call our office requesting home inspections or termite inspections often request a radon test. While we are licensed to do so, we typically encourage them to read the Florida Department of Health website on radon. You can view it here.
The Florida Department of Health will also provide a FREE RADON TEST KIT and analysis. Here is a link.
Florida does have a few areas with known elevated levels of radon gas. You can view a map of counties or search by zip code on the Florida Department of Health website. Here is a quick breakdown of counties in Florida that have reported elevated levels of radon gas above 4.0 pCi (picocurie).
Counties shown in red have reported findings over 4.0 pCi: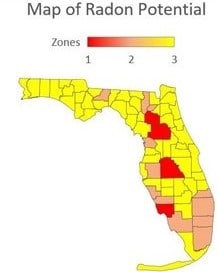 Alachua
Marion
Polk
Lee
Counties colored tan have reported findings over 2.0 pCi: Moderate but not typically requiring mitigation
Leon
Columbia
Union
Hillsborough
Sarasota
Charlotte
Collier
Martin
Palm Beach
Broward
Miami-Dade
You should understand certain properties may have been reported with elevated radon levels in other counties but that does not necessarily confirm elevated radon is present. Sampling and sampling technicians are not perfect.
Radon Testing Requirements in the Sunshine State
Florida does not require radon testing for real estate transfers, but it does require the real estate agent to provide a disclosure statement. Florida requires testing for all State licensed, regulated, owned, or operated facilities and daycare centers in the counties shown on the map below:
If you order a radon gas test, you should understand what you will get is a "screen" rather than a confirming test. Radon is a gas and it takes long term testing to fully understand the levels and risk. It is a "snapshot in time".
While many home inspectors are licensed to test for radon, few are professionally qualified to interpret the results or offer advice. We recommend you hire a well-qualified radon measurement firm who truly specializes in radon, especially if you have health issues.
About Property360
Property360 is a professional inspection firm. We are your local experts for home inspections, commercial property condition assessments, mold and indoor air quality assessments, forensic moisture investigations, fire door inspections, forensic termite inspections (provided by 360PestControl), Americans with disabilities facility surveys (ADA), second opinions and expert testimonies, building code inspections, new construction inspections, construction defect assessments, construction as-built inspections, contractor draw request inspections, construction management, contractor dispute resolutions, fire and flood damage assessments, and residential insurance inspections – wind mitigations and 4-point reports.
Contact us to learn more about our team and to request a comprehensive residential or commercial inspection at (904) 503-9808 today!